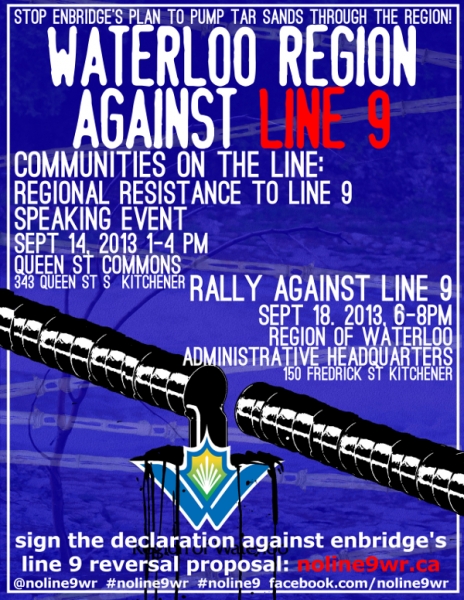 For September 18, 2013
WHAT: Rally and delegation to Regional Council opposing Enbridge's Line 9 reversal
WHEN: Wednesday, September 18, 6:00 p.m.
WHERE: Regional Council, 150 Frederick St., Kitchener
As the National Energy Board prepares to take public input on Enbridge Energy Inc.'s proposal to pump tar sands bitumen through Line 9 — a 38-year-old pipeline that crosses through Waterloo Region — a local coalition of over 20 groups is urging the Region to take a stand against the controversial project. On Wednesday, local residents concerned about the pipeline project will hold a rally outside before presenting in the council meeting. Concerns cited by the coalition include Enbridge's abysmal safety record, with over 800 spills in the past decade and widespread failure to comply with safety requirements, and the particularly severe environmental risk posed by diluted bitumen as opposed to regular crude oil.
Additionally, Enbridge's proposal has been advanced without proper consultation of affected Indigenous communities, which puts the project in violation of numerous treaties. These concerns and others are articulated in the coalition's Declaration of Opposition to Line 9, which will be presented to council. Join us at the rally and council meeting to hear why the wide range of local groups are saying 'no' to Enbridge's Line 9 reversal.
Members of the coalition will also be presenting at the Grand River Conservation Authority's monthly meeting on Sept. 27 and at National Energy Board hearings, which will take place from Oct. 8-11 (Montreal) and Oct. 16-19 (Toronto).
@noLine9wr
-30-