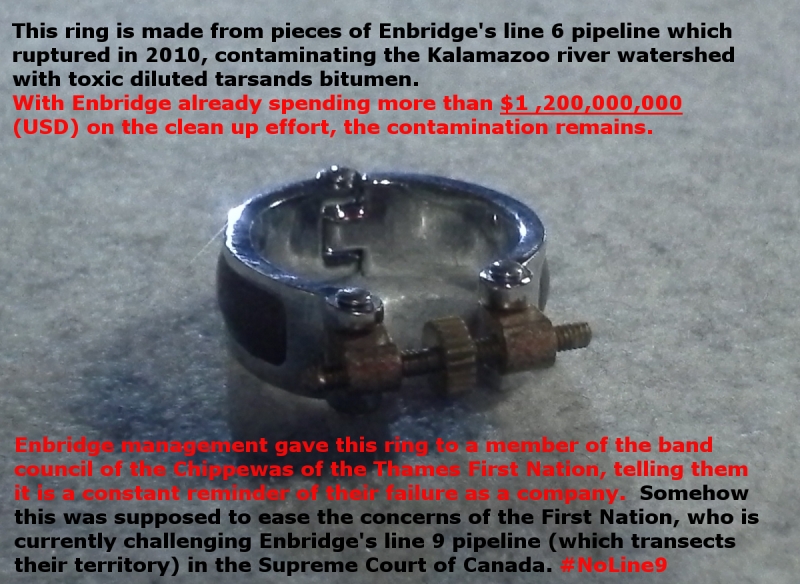 Prior to the Waterloo premier of the documentary This Changes Everything on October 7th, 2015, a #NoLine9 demonstration was held in the uptown square which called on the Canadian government, the national energy board, and the Enbridge pipeline company to stop moving forward with the line 9 pipeline project until the Chippewas of the Thames First Nation has their demand for proper consultation met.
In this podcast you will hear first from Rachel T, a Waterloo-based activist who discussed the line 9 project, the dangers of pushing diluted tar sands bitumen through pipelines, and how stopping line 9 and all pipeline project can help fight climate change.
Next you will hear from Amy Smoke, a Mohawk woman and the president of the Aboriginal Students Association at the University of Waterloo who spoke of a history of strong women fighting for indigenous rights and sovereignty.
The third speaker you will hear is Myeengun Henry, an educator and band councillor of the Chippewas of the Thames First Nation. Myeengun spoke of the impacts of residential schools and colonisation on his community and the challenges those impacts now pose in maintaining control over treaty land when resource projects are pushed through.
Myeengun also discussed the ongoing court battle around the line 9 pipeline which is working its way through the higher courts; the attempted negotiations with Enbridge which included him receiving a ring made from the wreckage of the 2010 line 6 disaster; and the failure of the government to uphold any duty to consult or otherwise respect the Chippewas of the Thames First Nation.
Myeengun calls on the Canadian government to move away from tar sands and fracked oil, and other fossil fuel production and to start respecting existing treaties such as they are a party to between the Chippewas of the Thames First Nation and other indigenous communities impacted by the line 9 decision.
The demonstration ended with several drummers playing a song of resistance before the crowd followed Myeengun to the movie premiere, where he also addressed the audience on the topic of Line 9 and treaty responsibilities.
For more information about the ongoing struggle against the Line 9 pipeline project, and to find out how you can support the resistance, check http://noline9wr.ca.
AW@L Radio is live to air every Friday from 16:00-17:00 on CKMS, 100.3 SoundFM in Waterloo. To support AW@L Radio and the co-op community radio station where we base our work, please visit soundfm.ca/donate.
*LISTEN HERE*
first posted on the rabble.ca podcast network