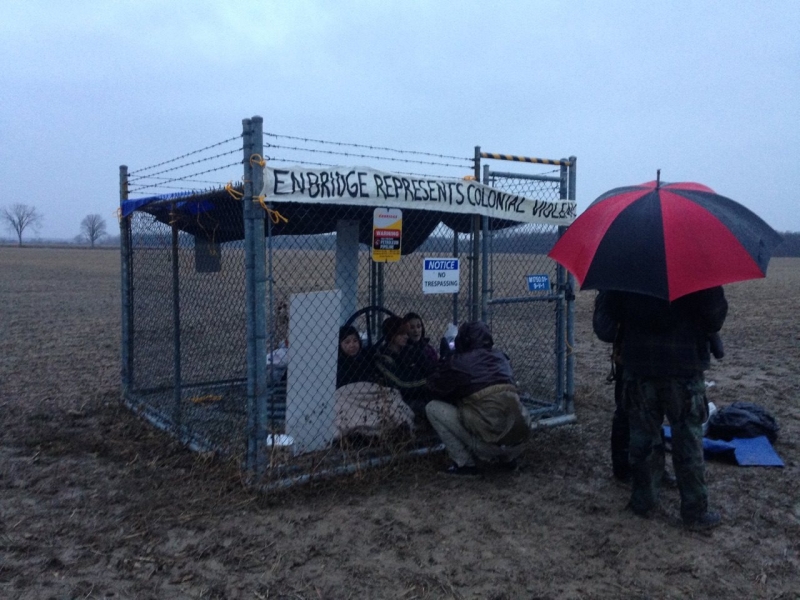 This morning individuals have shut of the flow of oil on Enbridge's line 9 pipeline. At 7:30 this morning, individuals used the manual hand wheel at a valve site to shut off the flow of oil through line 9 as an act of protest. They have locked themselves on site to prevent the operation of the pipeline.
Line 9 is a highly contested tar sands pipeline that began shipping crude earlier this month between Sarnia and Montreal. Those involved assert that the operation of line 9 is a violation of indigenous sovereignty and treaty rights. "It's clear that tar sands projects represent an ongoing cultural and environmental genocide." Vanessa Gray asserts. "I defend the land and water because it is sacred. I have the right to defend anything that threatens my traditions and culture."
Line 9 has faced opposition from several of the 18 First nations along its route. Chippewas of the Thames first nation is currently challenging the pipeline in Supreme Court, on the basis of non-consultation.
"The fact that line 9 is currently in operation really just adds to the urgency for people to act. I'm here because the negative impacts of the oil industry are taking place right now, every day." Says Stone Stewart, another of the individuals secured within the valve site.
The tarsands are known to be the second leading cause of deforestation in the world and permanently contaminate over 7 million barrels of water every day. Locally Aamjiwnaang first nation experiences skewed sex ratios and high rates of respiratory illness because of nearby petrochemical refineries.
"The crown is failing in their obligation to consult with first nations about pipelines." Sarah Scanlon, one of the individuals involved. "As settlers it's our responsibility to respect Indigenous land rights and support those protecting the land and water on the frontlines."